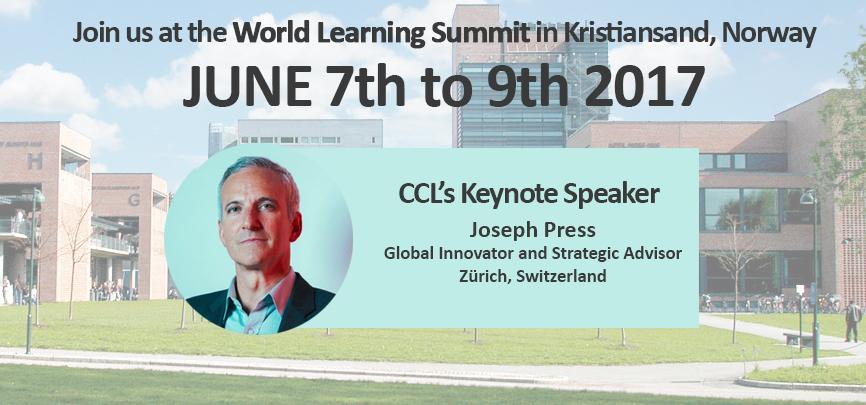 Taking stock of our World Learning Summit event June 6th – 10th, 2017, we have clearly hit on an idea and a format that intrigues. Including the June 6th pre-summit event, yet another event came and passed, with surprisingly intense and engaging discussions. June 10th ended with a great social team-building day out on one of the islands outside of Kristiansand. WLS is in part an academic conference, with all the features that these have — except that we keep it small and thematically focused. However, in addition, we stage debates, workshops, and discussions — to build a community. This year was not different.
Keynote speaker and former CEO of Creative Commons, Cathy Casserly, linked the idea of Smart Universities with Open Education Resources and the ideas if not to say movement behind OER. Nearing 200 but not quite, the audience for that keynote had something to think about. And unlike last year, a fairly high number remained to take in the closing keynote on June 9th, where Brian Magerko from Georgia Tech gave and engaging as well as well-related final insight into the future of the university — smart, or not.
in between we had about 4o academic presentations, many of which will appear in our Summit Proceedings. We had successful workshops on the digitalization of work-life.
As the featured keynote on our first day, Sir John Daniel and Stamenka Uvalic-Trumbic talked about the idea of knowledge and universities as producer of it in a "post-truth" and "post-fact" era.
In time to come, both my blog and our other joint World Learning Summit arenas will be used to relate more in detail what occurred during these days. All keynotes and debates were video taped. All workshops had students taking notes. All scholarly contributions passing through our double-blind peer review system, will be coming out in our summit proceedings.
The plan leading up to next year? An even tighter, more focused invitation-based event. With is own summit journal in place — The Future Learning Review – WLS may move towards its goal of becoming a research and research sharing community with an annual meeting point, that will also embed education policy discussions.
A small selection of photos from this year and last, suggests that we have intriguing guests like Peter Norvig, chief scientist at Google, and returning visitors both in the general attendee group as well as the speaker group: This year, Anjum Malik, from Austin inTexas,  worked for three straight days with our media center to develop a skype-based workshop on education, mentorship, gender and societal development.